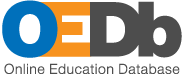 Some days ago I was asked to take a look at OEDb … And here I am, back from the visit. ;) Let's start with a quote:
OEDb currently contains reviews of 1,088 programs from 80 accredited online colleges. Unlike other leading online education directories, our database only lists accredited online colleges so that you can be sure that these degrees will be respected by potential employers. Our database allows you to sort reviews by program, college, or degree level.
And here my problems begins immediately: Shouldn't we overcome this "respected degrees" thingy and concentrate more on real skills and quality? As I learned in my live, there are so many people waving certificates, wrapping themselves in paper, decorated with titles who are not so much more then competency-simulators.1
Back to topic!  At last the above quote tells all about the core of what you will find while visiting OEDb. An easy searchable database for courses and classes provided by online school, colleges and universities. All listed data are exclusively from USA based institutions2. And there are also Rankings available. About the methodolgy of these, the OEDb guys wrote:
For each college, we gathered data for eight different metrics — the number of full-time faculty per part-time faculty member, institutional financial aid rate, acceptance rate, retention rate, graduation rate, years accredited, default rates, and job placement rates.
I am not sure if the provided rankings can give us informations about the quality of the courses, so I am left sceptical.
Conclusion
For everyone who's looking for courses provided by accredited online teaching institutions, this might be a great source of information.  At last I can tell that I wouldn't visit the platform again, because I am definitely not a part of the target group. But please give them a try, to you it might be a valuable source of information!
 Sources
OEDb homepage => Click
But at last, that is not a OEDb problem. So let us take a closer look to what these guys provide to their public. [↩]
I would like to see this not so US-centered, because there are so many great education providers all over the world. [↩]